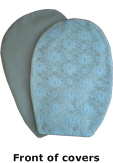 About Ostomy Covers by Linda
Hi,
My name is Linda Butler and I had an Ileostomy in 1990 following a year of severe Ulcerative Colitis. I found that my main worries following the operation were body image and lack of self confidence, especially during 'intimate moments'.
I could not find any Ostomy pouch/bag covers which fitted well or which I actually liked, so I decided to make my own. I now make them for Ostomy patients worldwide.

My covers are made to fit every individual appliance this ensures a snug fit. There are so many different shapes and sizes that one size does not fit all. There is a flap on the reverse of the cover which unfolds to allow easy emptying. The covers are made from cool polycotton (unless otherwise stated) to suit Male, Female and Child Ostomates. They are soft, comfortable, long lasting and fully washable.
Should you have your own fabric which you would like me to use to make your Ostomy covers I am happy to do this at an agreed cost.
Almost all of my customers come back to me for repeat orders with the most usual comment being 'How ever did I manage without them?' .
So, whether you have an Ileostomy, Colostomy or Urostomy, resulting in a Stoma, I'm sure that my covers will help you to regain your confidence and help you feel complete again.
- Linda Butler May 2009 e-mail Linda here